*** LAYOUT-BOTH-COLUMNS.TPL START ***
*** HEADER.TPL START ***
*** HEADER.TPL END ***
*** PRODUCT.TPL START ***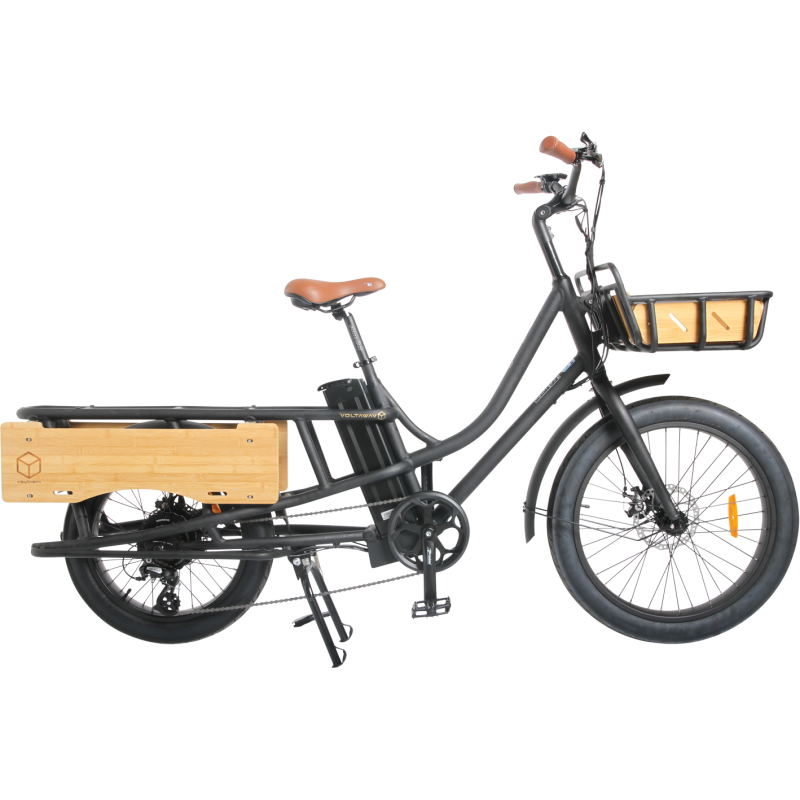  
PANAMAX ELEGANCE - CARGO BIKE
You love the city. Just like the Bobike ONE. You maneuver through busy city life with ease. Surprising twists, obstacles and new opportunities come your way. It does not scare you. The city gives you energy. Who says the city is no place for children? You prove them wrong. The Bobike ONE lets you and your child(ren) explore the city by bike in a safe and unique way. On to the next urban adventure!

Secure payment

30 days to change your mind

Free standard shipping over 50€

Quality Products
CARGO SERIES
New to Voltaway, we welcome the Panamax!
This is our first series of cargo bike which is designed to carry up to one adult and two children.
Constructed with a stretch frame and large foot rests, you can be sure that the Panamax will provide all that you need in an electric cargo bike!
Attention to detail is key on this model as we include a beautifully created wooden and stainless steel combo carry basket on the front and back of the bike allowing for a very safe ride while your belongings are safely stowed away allowing you to concentrate on the enjoying cruise using minimal effort!
Taking the kids to the beach and worried about parking?
We have you covered!
**HIGHLIGHTS
STRETCHED CARGO FRAME
WOODED FRONT CARRIER
REAR LUGGAGE RACK
FOLDING WOOD PLATFORM
LARGE FOOT RESTS
BAFANG HUB ENGINE
SAMSUNG BATTERY
TEKTRO DISC BRAKES
BALLOON TIRES
FENDERS
FEATURES
Motor : Bafang FatBike - MaxTorque 80Nm
Motor Power: 36V 250W
Battery : 36V 17ah
Autonomy : 55km-70km (PAS)
Screen : Multifonctional LCD Display
Charger : AC100V-240V
Charging Time : 5-6 Hours
Frame : Aluminium Alloy 6061
Tires : Road / Front 24*3.0 / Rear 20*3.0
Rims : Aluminium Alloy
Spoke : Carbon Steel (Bronze Nipples)
Fork : Alloy Rigid Fork
Brakes : Tektro Disc Brake HD-M300
Brake Levers : Tektro EI550/555 (Integrated Bell)
Derailler : Shimano-Altus 7S
Chain : KMC Brand Z High Quality
Gear : Shimano 7 Speed Megarange
Handle Bar : Aluminium Alloy
Seat Post : Aluminium Alloy
Saddle : Comfort Saddle
Pedals : Aluminium Alloy
Lights : LED
Weight : 44kgs
Max Load : 200kg
You might also like.
8 other products in the same category:
*** PRODUCT.TPL END ***